Wow, what a start to the CrossFit Open! Congrats to all our amazing athletes at CrossFit PPG who are competing in the Open. We've had a blast at Friday Night Lights. Click play on the video below to see the highlights:
The Largest Fitness Event on the Planet
The CrossFit Games Open is one of the largest fitness events on the planet. It brings together athletes from the same gym as well as hundreds of thousands around the world. You may have seen The CrossFit Games on ESPN. This event is to find who is the fittest on earth. Everyone who makes it to the Games starts with the Open. Last year more than 270,000 competed in the Open. This year, it's around 300,000. In addition to the Rx division, there is a scaled division to make it accessible to more people. It's a great opportunity to test your fitness against others of your age, your weight or whatever criteria you'd like to use. Here's what CrossFit has to say about it:

The Community at Friday Night Lights
For each of the five weeks of the CrossFit Open, the workout for that week is announced on Thursday night. Therefore, each Friday, for our workout of the day, our athletes complete the Open workout.
When the sun goes down, the lights come on, and we gather as a community for Friday Nights Lights. It's an amazing way to gather together with friends and family and cheer on those competing. Anyone at any age or any fitness level can complete to see how they compare with the 300,000 others competing around the world.
The power of inspiration from a community of like-minded individuals comes alive and its awesome seeing our athletes complete movements and workouts that they never thought were possible. Really, if you haven't seen the video above yet, check out to see the magic of Friday Night Lights.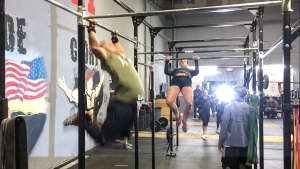 Be a Part of the Fun
Come out for the party and to cheer on the others, or, if you've been actively CrossFitting, you're welcome to participate in the workout. Please RSVP in advance so we can reserve a spot for you.
Warm-up starts at 5:30. The heats begin at 6:00.
Contact us with any questions or to let us know you are coming. See you soon!